How To Resist Christmas Food Temptations?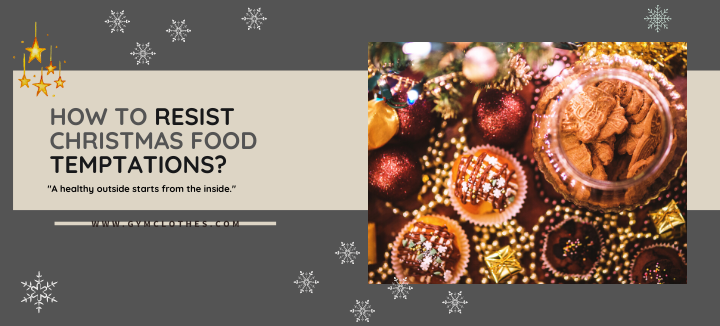 Christmas is just around the corner, but so are the piles of food prepared for that special occasion. With the joyful holiday atmosphere around, it can be very easy to give in to food temptations. Thanksgiving dinner, office parties, holiday parties – it seems like there's no way to escape it.
Since we understand how hard it can be to not give in to temptations, we decided to create a short guide and share with you some tips on how to enjoy the holidays without packing on a few pounds. So, let's just get started.
Plan Ahead
One of the best ways of resisting food temptations is planning ahead. Let us explain. If you know that you are going somewhere with a lot of food, such as an office Christmas party, try to consume a nutritious snack beforehand. This way, you will not be feeling as hungry as you would if you didn't eat anything. What's more, you can consider taking some supplements, such as Primal Greens, that will help curb the unhealthy cravings.
Make Food Harder to Reach
Keep the temptation out of your house for as long as you can. You don't have to bake gingerbreads? Then don't. However, if you actually have to do it (for instance, for your child's school Christmas gathering), keep it in a place that is harder to reach – such as a pantry located downstairs. Don't leave them in plain sight.
If you have to make an extra effort to reach it, for example, go downstairs or bring a chair, you'll be less likely to do it. This is one of the cases in which people's laziness can actually be helpful – the harder it is to reach the food, the less tempted you'll be to actually eat it.
Use a Smaller Plate
If you want to try every single dish placed on the table during Christmas dinner – go ahead. However, use a smaller plate while doing so. Using a larger plate might trick your brain into thinking that the portion you put on it is a lot smaller than it actually is, and, as a consequence, you might find yourself overeating.
Stay Hydrated
It is no secret that when you drink a lot of water, you feel full. By staying hydrated, you not only have less space in your stomach for Christmas goodies, but you also detoxicate your body and aid digestion.
What's more, if you are planning on drinking alcohol, adding a glass of water every here and then can help you avoid being hungover in the morning, which means that you'll be able to start your day with a much clearer head.
Don't Lurch From One Extreme to Another
This is probably the most important thing to keep in mind during holiday time. Just because you are trying to avoid food temptations doesn't mean that you have to stop eating Christmas food altogether. Don't lurch from one extreme to another.
Remember – if you want to taste everything from the table, that's completely fine – go ahead. No one is going to say that you can't do it. However, know your limit, and don't go overboard. As long as you keep everything in moderation, you shouldn't have to feel guilty about how much you ate. Christmas is the time of joy and fun, and it definitely won't be if you'll keep thinking about your diet.
Brush Your Teeth Often
Whenever you feel like you're becoming hungry, you can, for instance, brush your teeth, rinse your mouth with mouthwash, or nibble on a Tic Tac or a minty candy.
Minty things work for some people just as well as supplements for others – they curb their appetite and remove cravings. If you are not sure whether you're one of them, try it out – there's nothing to lose. Quite the contrary, you can gain fresh breath.
Set Some Limits
If you really don't want to give in to temptations this Christmas, then set some goals for yourself in regards to how much you will or won't eat, and stick to them. The truth is that falling in line without it being intentional can be close to impossible. We all experienced it – we opened a pack of chips, thinking it will only be a few. One, two, three, four… and before
you know it, the whole thing is gone.
Try to verbalize that limit. For instance, tell yourself out loud, "Okay, I'm going to eat just one cookie." By doing that, your brain will 'trigger an alarm' if you find yourself thinking about giving up the set limit.
Procrastinate
Now, you might be wondering – How can procrastination help me this Holiday season? Let us explain.
When it comes to temptations, there are really two ways to go about it – you either give in or give up. We either deprive ourselves of it entirely or succumb to the impulse right away. And, to be honest, neither of them is good or helpful. This is also applicable to food.
Whenever you decide to not give in to temptation at all, you are actually making it harder on yourself, as even if you don't eat a specific thing, the craving and desire for it are still there. So, instead of saying you will not eat something at all, say something like 'I will eat this later,' as, usually, the desire and craving go away. It's important to notice that the time you set for yourself should be non-specific. If, for instance, you decide 'I will eat this tomorrow,' then you will probably eat it the next day, which is not the point.
The Bottom Line
Christmas is a time of joy and celebration. However, it is also the time during which keeping your diet is probably the hardest – after all, who can resist all the Christmas food? Well, with a bit of motivation, working out and self-awareness – you can do it. You just need an action plan.
We hope that after reading this article, you have a better idea of what to do to enjoy Christmas dinner without gaining a few extra pounds. Keep motivated, know why you're doing it, and believe in yourself. Good luck!