How To Find The Perfect Men's Outdoor Activewear?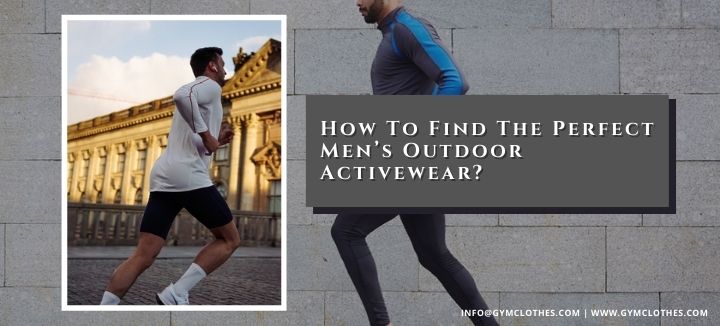 Not all men's activewear is designed for the same purpose. Some feature more high-tech sweat-wicking and odor blocking technology, while others are more basic and directed towards less intensive workout. Some are even focused on fashion! Training in the wrong apparel can really affect your workout, so it's important to get it right. Hence, one of the popular wholesale sports apparel has come up with a unique collection of functional men's outdoor sportswear that retailers can have a look at. Let's read on the blog below to know more.
The Ideal Size
Men's activewear sizes may differ from your regular clothing or suit size. You demand a lot more from your activewear than you do from your working wardrobe, so you may need some extra leeway when it comes to sizing, providing the space to pull, push and twist in any way your training takes you.
The Function
Whilst low cut stringers may show off maximum muscle, but are they practical during training? Activewear should be functional, cut with designs and shapes which flatter your form and move with you during training. This also goes hand in hand with sizing. While a tight T-shirt may show off a muscular physique, it may also restrict your range of motion.
The Sports-specific Outfit
The rise in the popularity of athleisure has seen the merging of fashion and fitness, encouraging more people to adopt a more active lifestyle. Hence, opt for such clothing which focus solely on activewear which use trialed and tested technical fabrics to create silhouettes which are designed with a sports specific focus to enhance performance, not to just look good or stay on trend.
The Layers
Wearing extra layers to burn more calories is a myth, but what wearing extra layers will actually do is help to provide you with extra variety, so you remain as comfortable as possible throughout your exercise. The purpose of wearing layers is so that in colder weather you can keep warm and drop layers as you heat up and visa versa as the weather gets warmer.
The Style Factor
If your activewear and daywear merge seamlessly, you can fit activity in at any given moment. Look for activewear which is designed for "all day active" and is stylish and smart enough to be worn as daywear, but functional for fitness performance.
Get in touch with one of the popular suppliers and invest in a trendy collection of blank workout shirts, shorts and accessories. Please check out the expansive catalog and the MOQ of the products and select the trendy apparel pieces that you wish to invest in. Drop a mail to the help team stating the bulk investment needs.