How Can You Wear Your Workout Clothes To Work And Look Sharp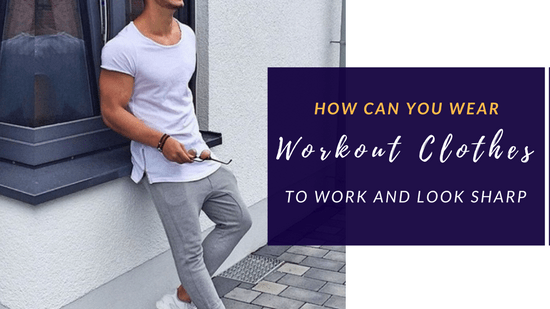 There has been a myth that no athletic clothes can be worn to the workplace. But just as mentioned, they are a myth. In reality, if you can wear the clothes appropriately, the result can be spectacular. For the flawless appeal, you need to make the right picks. So which garments should you root for? Keep reading to know more.
CLOTHES TO PICK
Fitted Long Sleeves T-Shirts
A fitted long sleeves t-shirt or sweatshirt looks sleek. And anything sleek can be passed as formal. (Okay, not everything, but these pieces will!) Unlike your average cotton top, a lightweight material used to craft the workout sweatshirts has an elegant finish. They highlight your stature well helping you look refined. Manufacturers of athletic apparel wholesale ensure to use fabrics that look natural to get the part right.
Tunics
Enthusiasts were always on a lookout for a piece of gym clothing that would satiate their need for comfort and style at the same time. And a flowy, lightweight tunic is exactly what everyone had been wanting for years. The breathable options as put forth by the new versions of the tunic are definitely praiseworthy. Combined with the right apparels, they can be easily transformed from a gym setting to a business-casual environment. With the least of your efforts.
Yoga Pants
The idea of going to office directly from your yoga class in your yoga pants seems like an idea far-fetched, however, in reality, it is totally possible. All you need to do is pick a pair that is soft and stretchy while also looking dressy and classy. Be careful of the fit of the yoga pants for your motive is to get a sharp appeal. Opting for a tailored version is a smart thing to do.
These pieces look nifty and conventional when worn with the perfect complementing apparels. Be crafty and experiment with your look.
THINGS TO REMEMBER
Anything With Polished Prints
If you ask the true fitness-fashion aficionados, they will always tell you that you can wear any of the athletic clothes, because it is not about the garments you wear but the prints you choose. You have to understand what works for your gym might not work for your work setting. Any pattern that is too wild should be avoided at all cost. Tribal prints, animal prints and psychedelic patterns are a big no-no. Opt for something subtle like the herringbone or tweed to get a tailored appeal. Also, to look classy, make sure you pay attention to the details. If in confusion, go for solid shades. They are the safest!
Casual Blazer Is The Key To Balance
Even after getting the pieces and prints right, you might face confusion. The easiest way out of the muddle is to throw over a casual blazer on top. The structure of the blazer should be in tailored and sleek to keep you both comfortable and looking sharp.
Now that you know what gym clothes to wear and how to wear them to your work, make sure you use them wisely and widely. Reputed manufacturers of wholesale blank fitness apparel have stunning pieces displayed in their inventory that can be purchased by retailers in bulk at a discounted price.
AUDIO VERSION :
VIDEO :