Health And Fitness Trending Buzzes On Social Media: A Detailed Analytic Report!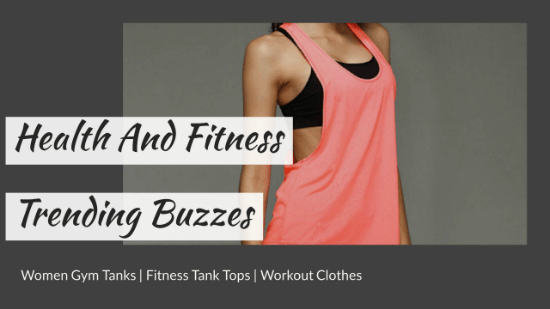 Recently, if you notice carefully, you will observe the rising trend of fitness and health encompassing the social media handles, be it Facebook, Instagram or twitter. Be it the fitness trips that the bunch of friends undertake, or the health food items being talked about, suddenly people are so concerned about being fit and fine. While some find the pictures and posts quite inspiring the motivational, there are some who regard them as spam, and avoid them. No matter you love or hate them, it becomes difficult to ignore them as they are spread everywhere. According to some researches and studies done, it is proved that the highly fitness-minded and health freak consumers are seven percent more inclined to share their fitness routine and styles on social media.
From the trend of athleisure that has curved a niche market, to the increasing consciousness of the people to remain fit and look great, or the appealing fitness fashion in dynamic gym tanks women's and leggings, here are some reasons why fitness is surfacing so much on social media.
The Stiff Competition People Face
There are a number of fitness apps, or workout contests that happen online where people participate to track the results of their progress and prove themselves as the best in regards to being healthy and fit! The on-going fitness competitions have taken over families, to friends groups and even in workplaces, too. This competition trend is clearly noticeable in the social media networks through pictures and posts.
Fitness Fashion Is A Huge Craze Today
From the online fashion destinations to the private fitness clothing brands, everyone is trying to satiate the fitness freak fashionable people with a wide array of activewear options. Be it the sleek women's gym tank tops, or the joggers for men, and compression garments, seamless athletic options or much more, you get to come across a number of fitness clothing trends that are circulated on the social media forums. The current fashion on Instagram is to post the cute selfies, and showcase different fitness fashion highlights to inspire people.
The Pre And Post Workout Makeovers
The before and after photos of different people also is a reason why fitness is trending so much on the social media. The fitness freak people are posting collages of the Pre- diet, post-exercising photos with inspiring quotes and anecdotes. This has become a regular practice, and the wonderful transformations are also pushing the unfit people to try out the best fitness regimes and eat the healthiest foods.
Satisfaction Through Food Is Shared
The Insta-worthy pictures of lip-smacking and super healthy acai bowls, smoothies, salads, and paninis are shared every now and then on Instagram, and these are also a reason why the men and women are indulging so much in fitness schedules. These are not only aesthetically pleasing to be shared on the virtual world for more likes but also are equally healthy and promise great body metabolism.
Motivation Is The Biggest Factor
Pinterest and Instagram are the biggest platforms where unique workout ideas and yummy food recipes are shares to motivate people to work out more. Also, the inspiring quotes definitely push people to start acting!
Thus, be it due to fitness fashion through sexy wholesale womens gym tanks or the competition among people to stay fit, social media is facing a great upsurge in fitness trends.
AUDIO VERSION :