Different Types Of Tank Tops You Can Invest In This Summer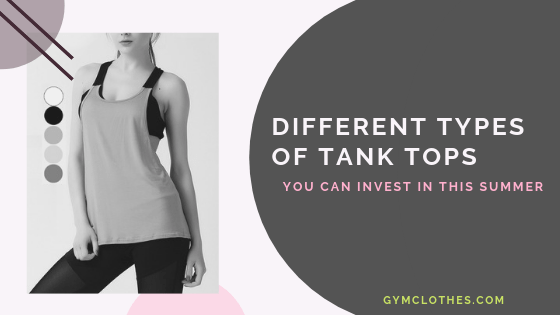 Tank tops are sleeveless tops that were first worn in the 1920's by the Olympic women's swimming team. Initially it was mostly worn for sporting purposes but gradually from the late 1970's it got transformed into a smart wear clothing item. In fact women also started wearing tank tops in the public as the western world became more liberal. Hence, women's tank top manufacturers have come up with various styles to cater to the diverse customer base. You can find different types of wholesale tank tops for women that are reasonably priced and are performance oriented as well. Thus, know more in the blog below about the different styles you should invest in.
Athletic Tank Tops
Athletic tank tops are solely meant for workout and training purposes. These fit tightly and are usually available in a more flexible built in bra. The built in bra provides you with the outmost support and also prevents sagging of the breasts. Athletic tank tops are ideally made with stretchable material so that it provides you with flexibility during the exercises. It would be ideal to opt for those made of synthetic material like polypropylene or nylon as it has great sweat-wicking material.
Backless Tank Tops
Backless tank tops usually have a short strip of fabric running down the back. It is very dressy and can be worn with different types of trendy jackets. These tank tops are not necessarily meant to be worn for sports purposes. Ideal for summer you can style a fashionable brallete with this to create a chic outfit
Double Layer Tank Tops
Double layer tank tops are perfect as a smart wear. You can wear it with jeans, leggings and even skinny trousers. These are ideally made of cotton but are also available in more glam version like silk or satin. Wear them for a night out with friends or a brunch with gorgeous pants and heels.
Halter Neck Tank Tops
The straps in the halter neck tank tops do not go around the shoulders, instead they meet around the neck. These can be either high or low cut and are available in super casual as well as elegant versions. Halter neck tank tops are usually short and fall just above the waistline hence is a perfect clothing item to be worn with high-waisted skirts and pants.
Retailers who want to include trendy tank tops in their can get in touch with one of the renowned wholesale tank tops women manufacturers. All you need to do is browse through the unique collection of clothing that the manufacturer has in store. After selecting the required tank tops for women wholesale, state the bulk needs to the customer care team.