Choosing What To Wear Under Workout Clothes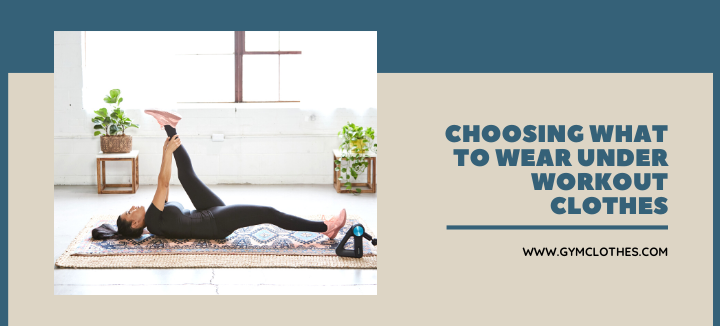 You can call us biased, but we're big believers of the fact that your gym clothes can greatly impact your performance. In fact, a 2017 study published in the Biomedical Research found that wearing professional sports attire on a regular basis (while working out, of course) can "effectively reduce the body's sweat volume, lower body temperature, prolong the duration of movement."
But while the sports clothes you wear affects your performance, the undergarments you wear underneath also play a big role in keeping you comfortable and sanitized throughout your routine.
For Women
Bacteria and yeast thrive in warm and moist environments, and wearing ill-fitting underwear can easily increase the chances of you developing an infection. To that end, PopSugar's article on choosing the right exercise underwear highlights that it's actually the choice of material that women have to pay attention to. Panties made out of organic, non-dyed cotton are typically your best bet if you're worried about irritation.
Comfort and breathability should also be considered when choosing the kind of underwear style to go for. Underwear that's made out of breathable material and is the right size should be enough to keep you safe. However, those who want to be extra sure can go for something like a bikini cut. Pretty Me's guide to the best lingerie styles mentions bikinis as a popular choice, and it works equally well for gym rats. Relying on a high-rise cut with lots of coverage can help keep you cool while feeling secure in your exercise routine.
For Men
The same rules of comfort and breathability come into play when talking about men's underwear, which is why it's no surprise that cotton also comes highly recommended as the material of choice. If you can find underwear that wicks away sweat and promotes moisture absorption, that's even better!
While you might have encountered a few men who go commando at the gym, doing so can lead to a serious case of a fungal infection in the area, otherwise known as jock itch. As far as style goes, boxer briefs are a good option as they don't restrict your movement.
Of course, there are other general rules to keep in mind regardless of the underwear you choose to go for. You should change out of your sweaty clothes as soon as possible after a workout, and make sure to wash your sweaty clothes immediately after working out. It's best if you're able to take a shower right after working out to keep yourself clean, but having a separate change of dry clothes is also a good option for those days when a post-workout shower isn't immediately possible.
Our post on the 5 Essential Pieces of Workout Apparel for Men lists underwear as a must for preventing chafing, but investing in good underwear is a rule for anyone who exercises on a regular basis. The best underwear will help you feel supported through your workouts — meaning you won't feel the need to readjust after every other repetition — but it should also work to keep infections at bay.