6 Smartest Ways To Buy Workout Clothes On A Budget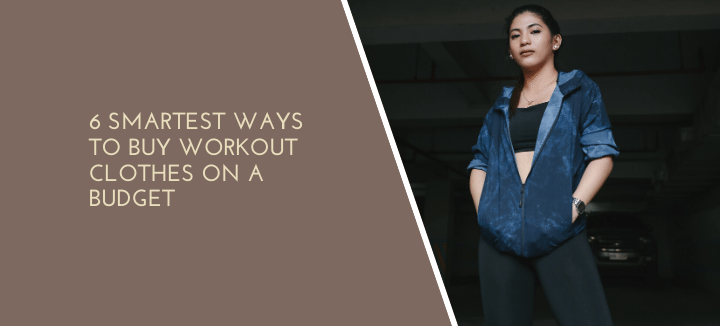 Summer is coming. Again. You probably think about how you need to work on that summer body of yours. Or maybe you're sporty all year round, and your clothes are all well-worn from working out. Whatever your situation, you are here because you need new workout clothes. This is actually an essential part of the training. You need to feel comfortable, sweat properly, and your body has to breathe correctly. This is not just a silly excuse – you really need the right clothes to work out. It's true that they can be quite expensive, but it doesn't mean that you can't find anything on a budget. In fact, there are several ways to save money on workout clothes.
1. Compare prices
You can find similar products in multiple stores, both bricks and mortar and online, and we can assure you that in each one, you will find a different price. It may be time-consuming, but it's really worth following several sources to be absolutely sure that you're getting the best possible deal for yourself. Pages like Best Budget can provide you with relevant reviews and price comparisons, making the whole process of researching a little bit easier.
2. Forget Most Brand Names
You may think that brands known for making sports gear will provide you with the best quality, and it may be worth paying more. While it may be true in some cases, unfortunately, it's not always like this. You can end up paying hundreds of dollars for a piece of clothing that will rip or wear out really quickly; on the other hand, you can find great products like Nike for a lower price, only because the brand is not as famous as Nike or Adidas. The only thing you give up is the logo, as you may easily find similar designs for less. Pay attention to the source and the materials, but don't ever assume that expensive means of high quality.
3. Try Stores That Don't Specialize In Sports Gear
Just because a brand sells something more than leggings, running shoes and yoga pants doesn't mean it's all worth nothing. Nike or Puma will often overcharge you, simply because they are specialists and experts in making sports clothing. However, as long as you recognize quality materials, you can shop for your next sports pants or shirts in H&M or Forever 21. Also, try department stores that offer brand name items for lower prices, like TJ Maxx. You will need to spend more time browsing through different brands, price ranges and sizes, but it will surely be worth it.
4. Sign Up For Newsletters
Of course, it's best to give up buying brand name products on a daily (or seasonally) basis. However, if you have an absolute favorite brand that you don't want ever to give up, you may find different ways of buying on a budget. The best would be to sign up for a newsletter or another loyalty program. Most companies will send you personalized offers and discounts as a reward for your trust and staying in touch with them. You will also be the first to know about big sales and limited occasions.
5. Shop Last Season's Items
It may sound like a heresy to a fashionable person, but the truth is, sports gear doesn't change as much throughout different seasons. Sometimes these are only the colors or patterns that differ, and while it's nice to have something new, fresh and up-to-date, it's significantly cheaper to buy the last season's version. So instead of turquoise yoga pants offered now, find navy blue ones from the previous collection – you will probably end up paying half the price. The fabric will be the same, and you will feel just as comfortable in your navy blues pants as you would wearing the turquoise ones.
6. Visit Outlets
Whether online or brick and mortar, outlet stores always offer you better deals on brand name items than the regular shops. It's especially useful when it comes to products like shoes. It's hard to exercise in a cheap, low-quality pair on your feet; what's more, it can even become dangerous to your health. Shoes make all the difference, especially for runners or dancers. That's why you should probably sacrifice the most time on shoes to research the best possible quality for the lowest possible price. And outlets may be the answer to your problem. For example, Nike is frequently praised for its outlet stores offers. It allows you to find high-quality products, very often, for half the price.
As you see, it is possible to shop for sports clothes on a budget. What's more, it doesn't even require too many sacrifices from your part – mainly your time. Proper clothes can help you stay motivated and feel better while working out, which should remain your main goal. So get ready to be in shape and save some money!