5 Tips On How To Get The Most Out Of Your Next Workout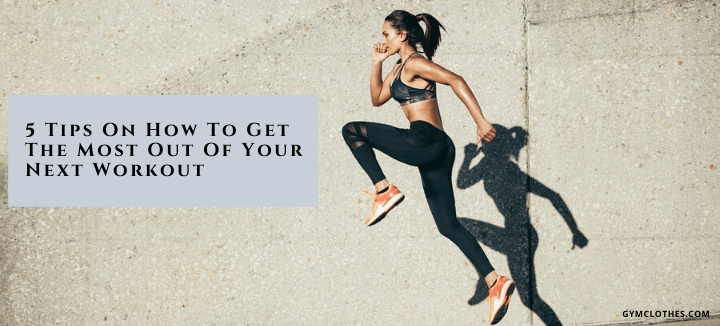 If you have a regular workout routine and you don't see any progress, there must be something wrong with how you do your workout. Fortunately, there are some ways on how you can boost your next workout.
No matter what your workout goals are, whether you want to shed extra pounds or be healthier by being physically fit, below are five tips you should keep in mind to get the most out of your next workout:
1. Maximize Your Nutrition To Boost Your Workout
In order to fully maximize one's workout, it's important to also maximize your nutrition. Thus, before every workout, you must take a carbohydrate or protein source for an energy boost. After your workout, you have to take another protein or carbohydrate source as it'll help you maximize your recovery.
Having a thoughtful meal plan will help ensure that your workout will be effective. For instance, if you're planning to exercise during the day, don't eat late dinner. Doing so will just make it harder for your body to digest and you could feel sluggish once you wake up.
However, you should take the time to set or prepare your next breakfast. This way, you'll not waste your energy or time deciding what to eat for breakfast. It's a good idea to take a light breakfast the next morning to give your body the fuel it needs for your workout.
Remember, for you to do well with your workout, your body should have the right fuel to get great results.
2. Don't Forget About Muscle Recovery
Your workout session is not over once you step off your treadmill. Having time for muscle recovery and giving importance to cooling down can help you maximize your workout.
Try to stretch after a cool-down exercise. This will loosen your tight muscles and boost flexibility, which is advantageous for your next workout.
You might also want to use foam rollers after you exercise. These can help iron out your fascia – a connective tissue that envelops the muscles that cause restrictions on your mobility.
3. Always Use The Right Clothes
If you want to get the most out of your workout, you'll need comfortable clothes that are made of breathable and stretchy fabric in a style that'll make you feel powerful. This might not be much, but if you have the right clothes, it can make a huge difference in your daily workout.
So, if you want to experience good results with your workout session, find the right and best workout clothes that are suitable for you.
4. Have A Workout Plan And Vary Your Exercises
A good way to get the most out of your next workout is to have and stick with your consistent workout plan. Instead of doing exercises worth for a week, why not try a regular daily schedule? A half-hour exercise routine every day can be a good idea. If you can't spend 30 minutes at once, you may break it into two 15-minute workout sessions.
Aside from sticking into your consistent workout schedule, you must also try to vary your exercises. It'll not only keep things more interesting, but it can also help avoid stressing your joints and muscles due to repetitive motion.
5. Learn Proper Breathing Techniques
One of the best ways to get the most out of your workout is through learning proper breathing techniques. Depending on the kind of exercise you're doing, techniques on breathing may differ. If you're doing squats, inhaling will help you protect your spine by enabling you to make intra-abdominal pressure.
During your mobility and stretching exercises, breathing can boost your effectiveness and efficiency. Meditative breaths can let you get more range through reducing stress, improved oxygenated blood flow, and depressing your sympathetic nervous system. All of these can help you reduce muscle tone. Such breaths also utilize your largest respiratory muscles rather than relying on your shallow accessory muscles, which can put a decreased strain on your neck muscles.
While stretching, holding your breath can activate your fight or flight stress response that primes your muscles for reaction and not relaxation. Therefore, try to hold stretches for 10 to 20 deep breaths rather than using a time parameter.
The Bottom Line
Those are just some of the tips you can consider to get the most out of your next workout. If you want to get the best results, you must look for a regimen that does not only suit you physically but also perfectly suited to your schedule and lifestyle.
With this, you can be assured that you'll enjoy your workout while achieving all of your fitness goals one by one.