5 Reasons Why You Should Choose The Best Shoe Type For Your Fitness Routine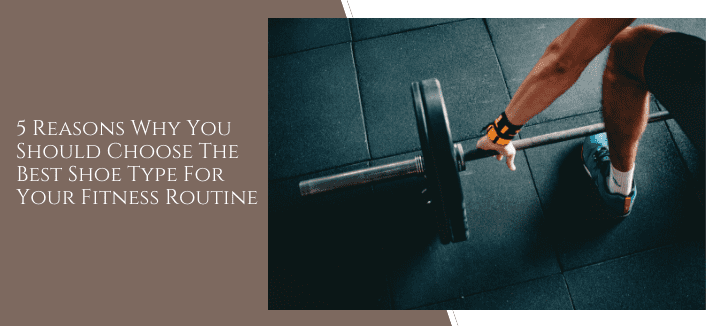 Your regular workout routine may involve walking, running, sprinting, jumping, skipping, playing sports, or using gym equipment. Whichever type of exercise you prefer, your active lifestyle requires you to wear the proper shoes.
The advancement in technology and a more profound understanding of biomechanics allowed footwear manufacturers to develop a wide range of footwear. It paved the way for them to design and produce special types of footwear for specific sports and activities.
The Creation of Sports Shoes
The application of both science and engineering is involved in shoe-making, especially when it comes to making sports shoes. If you have been in athletic shoe shops, then you may have noticed the different variations in the names and models of shoe brands.
Adidas, for example, has AdiPrene, Cloud Foam, Bounce, Boost, etc. as well as variations of these different cushion techs. Nike probably has the most comprehensive cushioning tech line. They have Nike Air, Max Air, Zoom, Zoom Air, React, Lunarlon, Free, Joyride, etc., plus different variations and combinations.
The cushioning aspect from the two most popular sports brands in the world right now became very essential in assembling. Different activities and sports require different designs, traction, and support. Each variant requires different materials for the top and rubber compound for the sole.
Subsequently, the design also plays a big factor in the performance of the shoes, along with durability, weight, fit, etc. The user is also something that should be taken into account. For instance, if you are looking for the best women's weightlifting shoes, your considerations for choosing the right pair will be different from that of men's.
The Importance Of Wearing The Appropriate Sports Shoes
So why do you need to wear the appropriate sports shoes for your activities?
Protecting You from Physical & Minor Injuries
Different sports require different physical skills. There's one common denominator for all types of sports shoes though. They are all designed for efficient movements and protection from injuries, the most common of which are ankle injury and back injury.
Now, this is where the importance of supportive footwear gets into the picture. Many running shoes come with shock absorbers, for example, to provide cushion and minimize the impact of jogging on your ankles or knees.
Supporting Your Body's Foundation
Your feet are your body's foundation. If they are outside of proportion or misaligned due to poor biomechanics caused by wearing the wrong footwear, then this can cause a chain of problems throughout the body. The most prevalent problem is back pain. Other common injuries caused by wearing improper shoes are blisters, bunions, calluses, corn, ingrown nails, shin splints.
Other more serious problems like fractures, Achilles tendon pain, Patellar tendinitis (also known as jumper's knee), and plantar fasciitis (inflammation on the bottom of the foot) can be encountered as well. Metatarsalgia that is experienced by the ball of the foot becoming painfully inflamed is a more serious type of stress fracture which also needs to be addressed.
To minimize the problems, athletes also use supportive insoles inside their shoes to keep their feet in a more neutral position at all times. It remains true whatever movements they make and they get that extra cushion to minimize the stress on their ankles, knees, hips, and back.
Improving Your Performance
As said earlier, each sport requires specific footwear. Thus, wearing the appropriate athletic shoes for your specific sports or activities improves comfort and performance. This is because you put your body and feet in the most efficient position where you can perform the movements effectively and safely.
Take basketball shoes for instance. They are designed to keep your ankles stable, and with enough flexibility for your ankles to move in different directions. One to one fit is important for a better range of movement, which is needed for quickly changing pace, direction, sprinting, and jumping.
They also need a good amount of traction so you can quickly stop when you need to. They are also designed with a good amount of curve on the sole for a better heel-to-toe transition curve when running forward.
Relieving Foot and Knee Stress
Many of you will consider your body type when developing the right diet plan. The same approach should be taken in choosing the right footwear. Smaller players who need to be fast and agile need responsive shoes. Bigger and heavier players need support to keep their knees and feet stable at all times.
Improving Your Sport-Specific Skill Set
Outdoor basketball shoes are a lot different than indoor basketball shoes. The former is usually more durable (made with harder rubber compounds and thicker materials), as they are made for asphalt or concrete use, rather than hardwood.
Running shoes are designed for forward running. They are light, with a good amount of cushioning to minimize the impact of running on hard surfaces. Trail running shoes are a bit different from ordinary running shoes, too. They are designed to withstand rougher trails and provide comfort and support.
Gym shoes and cross-training shoes, meanwhile, are designed to provide support for constant jumping, shuffling, etc. Thus, they bend and flex easily. Weight lifting shoes have a good firm grip on the ground and they usually have flat soles.
As for boxing shoes, they are quite light and minimal as you want to be light on your feet and shift with your weight effortlessly. They closely resemble wrestling shoes, except that wrestling shoes are designed for movement in any direction, whereas boxing shoes are designed for efficient forward and backward movements.
Field sports such as baseball, cricket, football, soccer, and rugby require shoes with cleats to help players feet grip the earth and prevent them from slipping.
Tennis shoes can be quite tricky. Ideally, you want to wear the shoes tailor-made for the specific type of surface you're playing on. Different courts (hard, grass, and clay) require different playing strategies. They usually come with flexible soles for side to side movement.
So as you can see, you have to find the right pair of shoes for the specific activity or exercise you wish to do. Doing this will make sure you get the most out of your routines.
The Best Sport Shoes For Your Needs
At the end of the day, people wear shoes to protect their feet. As research and development in biomechanics advances, more and more shoe brands incorporate new technology into their products. This allows athletes (weekend athletes, hobbyists, and the pros) across all sports, to perform at their best and keep them safe in every step of the way.