4 Marketing Tactics To 2x The Sales Of Your Private Label Activewear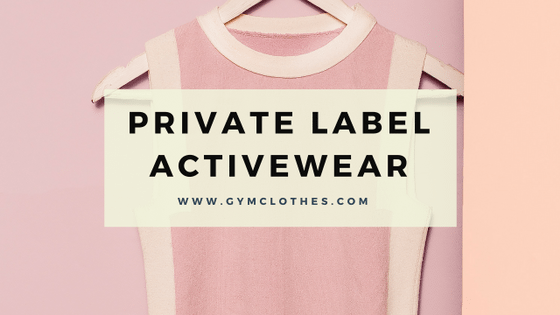 Just as soon as athleisure wears marched into the mainstream, many smart business owners rushed to launch their own private label activewear. It seemed like a lucrative bet on their part at that time. However, the move didn't turn profitable for many. For some, the fault was in the quality of their wholesale. For others, to much of a surprise, it was their promotional efforts.
Confusingly enough, in clothing industry where quality holds the center stage, marketing falls way behind. A distance from topmost priority is, to a large extent, acceptable. However, with history as a witness, ignorance to marketing, in any industry, has ALWAYS knelled businesses to losses and eventual obscurity.
So even if you have dialed one of the best private label clothing manufacturers USA based and have the best quality stock, if you're lagging in promoting your products, you're actually harming your business. Fortunately, fixing this flaw is not complex. Here are 4 marketing tactics that would 2x your sales in the quickest of time:
1. Focus On The USP Above Everything
Your private label activewear would definitely have something unique. Maybe it's quality is different, or the design is very fresh and exclusive. Or perhaps, you're offering the tops and bottoms at very cheap. In marketing, your products don't sell – your message does.
So, find the USP of your collection and then focus on that in your promotional campaigns. Whenever you get the opportunity, highlight this aspect in your message. This will separate you in the crowd, which will eventually attract more eyeballs to your collection.
2. Pick Longtail, Location-Based Keywords
If you're selling your collection online, or even have just an online presence to drive offline sales, you must optimize your website with the right keywords. Now, the biggest mistake many people make is picking some rather generic keywords. Like if they are selling gym leggings, they would literally use the phrase "gym leggings" in their content. Given the high market competition, such broad selection of keywords never helps. You must select long-tail keywords that are preferably location based.
For example, continuing with the above example, you can target the phrases like "black white gym leggings online" or "buy gym leggings Los Angeles". These keywords are very definite and target unique customers. You're more likely to make sales if you optimize your website with such keywords than going with generic terms.
Of course, you must do extensive research using the right tools to identify the traffic and competition of particular long-tail keywords.
3. Start Blogging
Even when someone is planning to buy gym clothes from their local market, the first thing they would do is Google about the right stores. So regardless whether you're selling just online or offline, blogging can be your most effective marketing tactic.
Produce the right kind of contents. Address the needs of your target audience, answer their queries, tell them about your amazing collection, inform them about the exclusivity of your wears. And if you're doing these with keywords-optimized contents, not only will you improve the visibility of your website and products but also drive more sales.
Remember, when you're offering a unique collection, communication is the key to make more sales. And this leads us to the next point…
4. Communicate With Your Target Audience
If the quality and style proposition of your private label is unique, this aspect must be communicated with your prospects effectively. This is how they would know that what you're offering is something special and designed to suit their distinct requirements.
So, start talking to your target audience. Connect with them through different channels – over social media, blog, emails and more. Also, don't miss the chance of engaging them offline. Whoever visits your store, make sure to hand them some kind of pamphlet that talks about your private label wear. Or you could directly talk to them and discuss about your collection. The more intimately you connect with your prospects, the more sales you will make.
These are 4 simple marketing tactics that can easily double the sale of private label activewear. Indeed, these are quite basic—but you would be surprised just how many people, on the lookout for some kind of "hacks", miss the fundamental aspects of marketing. Do them properly, you would start seeing an immediate difference in your returns. Understand, just having one of the best private label fitness apparel manufacturers is not sufficient. Even when with the best collection in your warehouse, you need a thoughtful marketing strategy.
AUDIO VERSION :