3 Ways To Wear Your Fitness Apparels Outside The Gym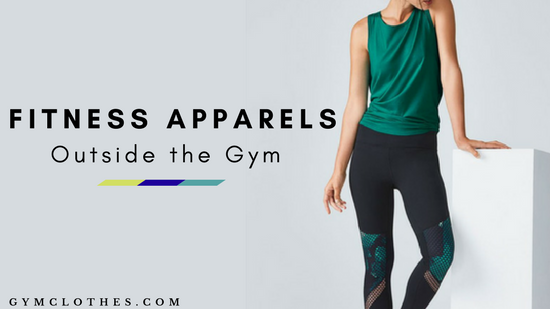 Fitness clothes have become extremely popular thanks to the trend called athleisure. More and more millennial are stepping into this comfort zone, making the fitness clothes their shenanigan. Regardless of the occasion, they are increasingly wearing these apparels and man, have they learnt to master the art.
You look around the street corner or maybe the cafe, you see young girls and boys alike in joggers and tank tops and leather jackets making their way through. For a moment, you might have thought about the trend as a passing phenomenon, which would disappear with time. But wait, you didn't realize how comfortable it was to roam in a track that would be accepted by the clothing decorum.
So now that you are aware of it, here is taking a look at three such combinations of fitness apparels that you can try out this summer.
First Look :
Pick a white tank top and team it with a nice pair of black leggings. Throw over a black textured bomber jacket over the ensemble and complete your look with a pair of white trainers. Though this outfit promotes monochrome at its best, the subtle use of black and white renders you an eye-catching appeal. You can also get custom gym clothing to accentuate your appearance.
Second Look :
The next look shifts completely into a colorful zone by highly depending on floral prints and bright undertones. A sports bra, a pair of capris and a trench coat on top- though this particular combination is ideal for a casual gathering, it can be great for a sudden outing as well. Wear a pair of ballerinas to give your ensemble an elegant finish. Designer gym clothes can be purchased from top manufacturers.
Third Look :
The third look is more about wearing clothes that are basic in nature, yet has a more appealing appearance. Pick a nice basic t-shirt in any subtle color and team it with a nice pair of leggings. You can wear a nice pair of trainer to look smart and cool. Comfortable to wear, this is the winning combination that every lady should tie. For a little dressier effect, you can use a scarf around your neck.
Thus, make proper use of your fitness apparels by using them appropriately. Use the given tips and stand out in the crowd. Ladies gym wear wholesale can be purchased by retailers from manufacturers. Register today and get massive discounts.
AUDIO VERSION :