Build Your Home Gym With These 6 Essential Items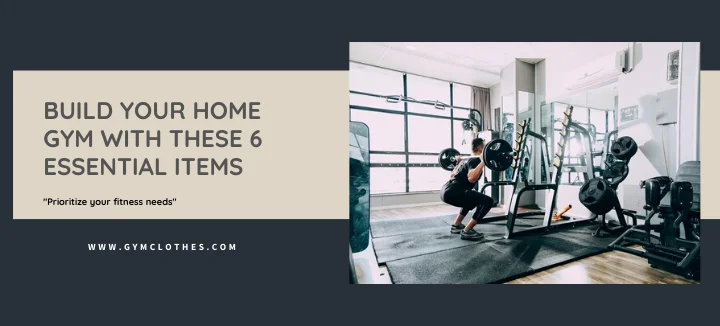 Do you head straight to the gym after work or feel too lazy once you get in the car and head home instead? Many of us would do the latter. But this would not have been the case if you had a home gym set up at your place.
Setting up a home gym is one of the best ways to keep up with your workout routine. Do you have a spare space that you could utilize for a gym? If yes, then it is time you get the essential items and build a gym in your home.
Consider using equipment such as all in one home gyms that provide you a total body workout. It offers you various strength-training exercises and works the muscles in your legs, arms, shoulders, back, and stomach.
In this article, you will learn about all the tools you should be investing in to build your home gym successfully. So, here is a list of essential items that you would require:
1. Dumbbells
Dumbbells are one of the most important items that you should have in your home gym. You can perform a variety of exercises with them that help you build your muscles and increase your strength. They come in a wide range of weights, allowing you to perform different forms of exercises.
People with joint pains may use lighter weights to stabilize their muscles. Heavier weights are perfect if you want to gain strength and build your muscles.
Moreover, having three to five pairs of dumbbells with different weights will allow you to add various exercises to your workout routine. The hexagonal-shaped dumbbells coated with black rubber will last for a long time and are comfortable in use.
2. Pull-Up Bar
A pull-up bar is a multi-functional piece of equipment that lets you modify your workout. It is not only used for pull-ups but also allows you to perform a variety of gymnastic exercises.
You will find some pull-up bar models suitable to be mounted to the wall, while some are designed for doorways. So, you may pick one that aligns with your fitness goals for your home gym.
3. Kettlebells
If you think that dumbbells can replace the need for kettlebells, then you are wrong. Some exercises are more effective if performed using kettlebells.
Exercises such as swings, squats, jerks, or lunges are performed better with kettlebells. You should get a kettlebell for your home gym if you want to challenge yourself and add extra weight during your strength training.
4. Barbell
A barbell is an ideal piece of equipment to keep in your home gym for improving your balance and stability. It is useful for free weight training and helps build your muscles stronger. You can use barbells for performing various exercises, such as bench press, bicep curl, squat, deadlift, and many more.
You will come across a wide range of barbell sizes, so select the one that best suits your fitness needs and budget. Consider a well-built, mid-ranged bar for your home gym. Check the diameter of the bar and select the one that goes with your hands' size.
5. Weight Plates
Weight plates are essential to include in your home gym as they provide you several benefits that lead to an effective workout. They will assist you in developing muscles and improve your balance, flexibility, and endurance.
There are various weight options available that you can choose from based on your personal preferences. With different sizes of weight plates, you can work on different resistance levels that lead to a stronger body.
6. Jump Rope
You can perform a cardio exercise using a jump rope in your daily workout routine. It is a simple and effective way of doing cardio, so make sure to have a jump rope in your home gym.
It improves your coordination and balance, offering you a full-body workout. Get a lightweight rope if you want to improve your speed and control. Contrarily, get a heavyweight rope if you want to increase your strength.
The Bottom Line
Investing in the right items for your home gym will allow you to have an effective workout routine. The task of setting up your home gym becomes less cumbersome when you are aware of your budget and needs. Identify what kind of equipment will help you achieve your fitness goals and maintain your daily exercise routine.
All the essential items included on our list are affordable and will help you add various exercises to your daily routine. Make sure you prioritize your fitness needs and spend wisely to outfit your home gym.